History: In Pursuit of the Past
April 21, 2011 @ 7:03 am
Village Antiques
755 Biltmore Ave., Asheville
www.villageantiquesonline.com
(Published in the April edition of WNC Magazine)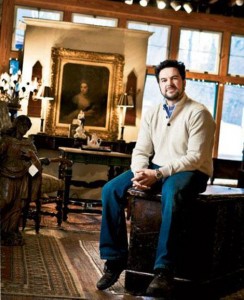 After touring the venerable Village Antiques with co-owner David L'eglise, learning about items as locally significant as Pisgah Forest Pottery and as lovely as an 18th-century French Provençal folk buffet, one might venture to guess the style of décor in his home. "Mid-century modern," he says with a laugh. Shocking at first, but it's reflective of his appreciation for a multitude of styles.
In fact, L'eglise likes pairing the sleek lines of modern furnishings with another favorite, the heftier Spanish and Italian baroque pieces. "They contrast each other well," he says.
He's been hooked on antique hunting since he landed a job making pickups in Europe for a dealer in New Orleans, while he attended Tulane University.
Today, he and business partners Zenda Addis and Terry Powell explore the obscure corners of Europe, as well as estate sales stateside, to offer pieces from more than 40 countries. And after 18 years, the thrill of the hunt hasn't gotten old. "I'm in a business I love," L'eglise says. —Rita Larkin